About 1st Valley Bank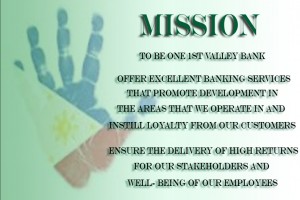 1st Valley Bank (1VB) is a multi-awarded rural bank in Mindanao founded in 1956 and one of the fastest growing financial institutions in the country. At present, the bank has seventy-four (74) branches and sex (6) extension offices and three (3) financial solution centers in Regions IX and X.
Headed by an equally multi-awarded CEO, Atty. Nicolas J. Lim, 1st Valley Bank is managed by financial experts, some of whom have graduated from the Asian Institute for Management.
Official website – www.1stvalleybank.com.ph
Where the Bank is Located
1st Valley Bank provides on your doorstep financial services to its wide based clientele in the following locations- Lanao del Norte, Misamis Occidental, Misamis Oriental, Bukidnon, Zamboanga del Norte, Zamboanga del Sur, Zamboanga Sibugay, and the cities of Iligan, Ozamiz, Pagadian, Oroquieta, Dipolog, Cagayan de Oro, Gingoog, and Zamboanga.
The Company executive office and business center is located in Carmen, Cagayan de Oro City.
A Brief History
The Company has its roots on Rural Bank of Kapatagan Valley, Inc., a stock corporation founded on September 11, 1956. It became the 75th rural bank in the country after the grant of its license to operate on November 24, 1956. From its modest beginnings, the bank enjoyed an upsurge in growth and popularity as Kapatagan Valley Bank (KVB) becoming a byword to the communities where it operates. After its consolidation with the Rural Bank of Sinacaban on September 1, 2005, the Company has taken on a new name as 1st Valley Bank ready to chart another lifetime of excellent services.

The Bank's experience is its clients success
1ST Valley Bank considers its clients as its driving force to continue to reach new and greater heights. As of the latest figures first quarter of 2009, the Bank serves about hundreds of thousands of clients enabling 1st Valley Bank to hit P3.5B in total assets. The Bank earned several prestigious recognitions such as the A+ ratings by the PhilRatings System, the Eagle Award by MABS considered to be the highest award a microfinance institution can achieve, and the Hall of Fame award for being the Most Outstanding Rural Bank in the Country by the Land Bank of the Philippines.
Gratified for the accolades and continued success, 1st Valley Bank seriously accomplishes its role and responsibility to the communities where it operates. Several school buildings were donated to remote areas such as in Tenazas, Lanipao, Matampay in Lala, Lanao del Norte. The Bank has also built and enhanced the reading facilities of chosen schools in Rebe, Baroy, and Maranding. On top of these donations, 1st Valley Bank provides full scholarships to indigent but deserving youths believing that education is a potent tool to liberate them and their families from financial hardships.
How 1st Valley Bank makes a difference
1st Valley Bank has also made a difference in the lives of its clients, particularly and most especially those who are considered as marginal and entrepreneurial poor, who have attained their own successes through the innovative and relevant products and services that the Bank offers. Notable are the microfinance products, supervised credit, and Gold and Gems.
Through G-Cash and EnCash ATMs, the bank has introduced technology to people in remote areas empowering them to experience convenience, speed, and safe mobile banking. Further, these programs have also made it possible for 1st Valley Bank to capture the un-banked population helping them realize and appreciate the importance not only of the products and services of the Bank but also the value of saving and growing their hard-earned money.
Services
ATM– (Automated Tellering Machine) In partnership with PLDT & ENCASH SAVANT, 1VB (1st Valley Bank) provides a highly secure and effective wireless automated tellering services interconnected with BANCNET, MEGALINK, and EXPRESSNET that allow ATM holders to self-manage their transactions such as withdrawal, checking of real time balances, deposit (soon), and practically all banking transactions. ATM services are open 24/7.
MOBILE BANKING– Using the G-Cash platform, 1st Valley Bank offers the revolutionary power of mobile commerce. Users enjoy the benefits of convenience, mobility, and security that come with the platform. At present, LANECO and several merchants in Bank's areas of operations are accepting G-Cash as bills payment. Users can also use it for two-way remittances, deposits, cash withdrawals, transfer loads, while in the comforts and security of their homes or workplace.
PHILHEALTH COLLECTIONS– As collecting agency, 1st Valley Bank acts as a one-stop shop for Philhealth remittances. Soon, micro clients will also enjoy the full benefits afforded by PhilHealth.
MONEY TRANSFERS– 1st Valley Bank acts as accredited center for money transfers of WESTERN UNION and UNITELLER.
1VB Accepts:
Savings Deposits
Time Deposits
Checking Accounts
Micro Deposits
Gihandom Deposits
SBR (Save, Build & Read)
Deposits
1VB Offers:
Agricultural Loans
Commercial Loans
Salary/Bonus Loans
DBM Loans
Pension Loans
ALF/CLF Loans
Gold & Gems Jewelry Loan
Micro Loans–
MAP (Micro Agricultural Product)
FAME-Financial Assistance to Micro-Entrepreneurs
Other Services:
SSS Pension Remittances
PhilHealth Remittances
G-Cash
EnCASH Savant ATM
Money Transfers–
PETNET/Western Union
Uniteller